Happy BBB #7!
This is how it went down...I was eating a bowl of cereal and thinking about Christmas when
Mal
texted and asked if I had any ideas for the December round of BBB questions. Is it obvious? We pretty much make the best team and I can't wait for NEXT WEEK! Oh, have I not mentioned this? Mal and I will be doing some chillin' very soon! Perhaps we can plan the questions for round 8 in person! I can't wait for some QT with my Bestest Blog Biffle...or my BBB! (here we go again with more B's).Yes the boys will be there too (and the puppies), cant forget about them! Speaking of the boys though...lets get back to the purpose of this post - hearing from the Hubs!
1. What is your favorite cereal?
Of all time? Hands-down Cinnamon Toast Crunch. I could eat boxes at a time if cereal didn't cost an arm and a leg.
2. Pancakes or waffles?
Uh… Waffles, of course. Is this even a real question?
3. What is your favorite holiday tradition?
My favorite thing is putting up and decorating the tree. Even when it was just me and my brother living together, despite light decorating throughout the house the tree was always up, lit and adorned with our ornaments. Most of my ornaments are from my aunts and uncles, and then I would get a special one every year from Santa. Now being so far from immediate family, it's nice to go through them and put them on the tree every year because it just brings me back.
4. Finish the sentence: All I want for Christmas is...
I've reached that milestone where I don't want tangible items anymore. I would love to be able to spend more time with my family than I'm currently able, so that's something. I guess we'll have to see what 2014 brings for that.
5. What was your best moment of 2013?
This is one of those questions that answers itself. I can't wait until next year when she is able to appreciate the idea of Christmas a little more so I can see the magic and wonder in her eyes.
Now grab a button, and link up with us!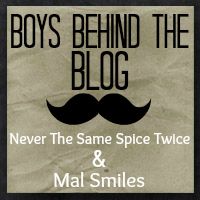 <div align="center"><a href="http://www.neverthesamespicetwice.com/p/boys-behind-blog.html" title="Never The Same Spice Twice"><img src="http://i903.photobucket.com/albums/ac236/sascoma/BoysBB_zps9c35357c.jpg" alt="Never The Same Spice Twice" style="border:none;" /></a></div>