It's funny, I've been referring to this dish as "The Sausage Kale Bean Thing" for months now! This is a meal that I made B.E. (Before Ella) and stashed in my freezer. I'm pretty sure when I made it I was just throwing random ingredients together. Don't you just love when your concoctions turn out delicious,
or as I call it..."post-worthy"?! It was such a yummy comfort meal, I think you will love it!
Ingredients
1 Package of Sausage (I used regular pork Italian sausage, but I suggest turkey or chicken to lighten this dish up)
2 Cans of Cannellini Beans
4 medium gold potatoes - peeled, cut into 1 inch chunks and boiled until fork tender
2 cloves of garlic
1/2 cup of white wine
1 1/2 cups of chicken broth
3 tbsp of tomato paste
4 packed cups of chopped kale
salt and pepper (to taste)
Directions
1. Brown sausage, slice and cook over medium-high heat in large dutch oven
2. Lower the heat to medium and cook garlic for a minute until fragrant, add white wine and cook until alcohol cooks off, add chicken broth, tomato paste, salt and pepper, bring to a bubble
3. Add kale cook until wilted, add beans and cook for 15 minutes on low
4. Add potatoes, stir in gently so they do not fall apart
I hope you all enjoy "The Sausage Kale Bean Thing"!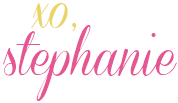 Check out my lovely 'Savory' Sponsor: