This month's The Boys Behind the Blog is bittersweet. It's been a year since
Mal
and I started this linkup and I can't believe how fast time has flown by. We have decided together that this will be the final month of The Boys Behind the Blog (sorry sorry sorry). We know how much you all love it and we hope your men will continue to be involved with your blogs without us.

We have both had many offers to "take over" this link up but we have decided to not pass the official BBB name on. However, if someone wants to start another man-centered linkup, they are more than welcome to. There are no Blogland police!

We hope you will join us one last time and we cannot thank you enough for all your posts over the past twelve months! You all (and your boys) are the best!
My Hubs has been such a good sport over the past year! I'm pretty sure he has secretly loved being a part of this! Thanks so much babes!
This was the first of many "Daddy/Daught" photos...it's a favorite for us both!
1. What was your first job?
I was a loader for UPS. I packed out the full-length tractor trailers with outgoing shipments. Needless to say, I'm really good at Tetris now.
2. What is the biggest risk you've ever taken?
Packing up and moving to Florida. Yes, it was on a hope and a dream. No, we didn't have jobs lined up, a place to stay long-term, or a whole lot of money in the bank to live on. Absolute risk, but absolutely has worked out so far.
3. What is one thing you can't live without?
My morning coffee. I can function, but it really is just not enjoyable at all.
4. What is your least favorite food?
I'm a fan of breakfast cereal (I mean, who's not?). And not just the sugar-coated, marshmallow-loaded stuff either. However, I cannot stand Honey Bunches of Oats. I don't know if it's the flakes that immediately melt into mushy goo upon contact with milk, or if almonds just don't belong in breakfast cereal, or something else altogether. It just doesn't work.
5. If you could time travel, where/when would you go?
How could I possibly pick one place or time? Just change my name to The Doctor, I want to see it all.
Now grab a button, and link up with us on last time!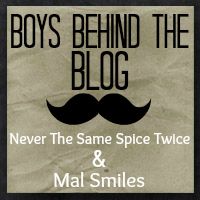 <div align="center"><a href="http://www.neverthesamespicetwice.com/p/boys-behind-blog.html" title="Never The Same Spice Twice"><img src="http://i903.photobucket.com/albums/ac236/sascoma/BoysBB_zps9c35357c.jpg" alt="Never The Same Spice Twice" style="border:none;" /></a></div>