It's the first day of May and also the first Thursday in May which means it is time for The Boys Behind the Blog Questions!
Mal
and I have decided that after 12 fun months of this linkup,
May will be the final month of The Boys Behind the Blog.
We love all of you and we are still blog/ real life BFFs but it's time to let it go.
This month's questions are random and easy so we hope you'll join us for the FINAL The Boys Behind the Blog linkup on Thursday, May 15th!
The Boys Behind the Blog #12 Questions:
1. What was your first job?
2. What is the biggest risk you've ever taken?
3. What is one thing you can't live without?
4. What is your least favorite food?
5. If you could time travel, where/when would you go?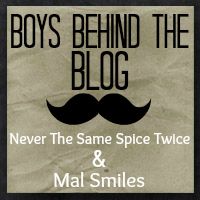 <div align="center"><a href="http://www.neverthesamespicetwice.com/p/boys-behind-blog.html" title="Never The Same Spice Twice"><img src="http://i903.photobucket.com/albums/ac236/sascoma/BoysBB_zps9c35357c.jpg" alt="Never The Same Spice Twice" style="border:none;" /></a></div>

Check out my lovely 'Savory' Sponsor: