One thing I can't say is... "Wow, what a busy week"! My week has been a lot of things, but exhausting is certainly not one of them. Since everyone keeps telling me to "rest now while I can", I'm doing just that. I've also been getting a lot of "your life will never be the same...blah, blah, blah"...I get it! Point taken people, there is nothing but rest happening on this end believe me! My days are numbered, I go back to work next Wednesday so I'm trying to soak up every second of relaxation that I can. Did I mention it's been fabulous? Thanks for the awesome excuse advice! There is nothing like justifying sitting around and doing nothing!
It was a struggle keeping up with taking photos since most of my time has been spent on my couch crying over "A Baby Story" and catching up on Long Island Princesses (no judging), but obviously I managed. Let's take a look at this restful week of mine:
1. Thank you to my dear friend J-Vrag who recommended the Pandora station "Hip Hop Road Trip Radio"! I've been listening to it all week, it's better than any scratched up mix cd I have sitting in my car right now. In fact I'm listening to TLC "No Scrubs" right now as I type this. Hello, instant good mood!!!
2. Baby Girl has quite the book collection, so we have been branching out and reading her some new ones. The books I received from friends and family for my shower have messages in the front covers. It was great going through all of them and reading their sweet words. This one is from my parents...or actually "Grandma & Grandpa" -I'll have to get used to calling them that!
3. I'm a fiend for the passion tea lemonade from Starbucks, and although I've made just the passion tea at home...this was the first time I've ever tried adding lemonade to it. Not sure why it's taken me this long to try, OR what made me put it in a beer mug...whatever...been drinking these ALL week!
4. Last night I whipped up a Mediterranean chicken creation, it was insane and YES I'll be sharing the recipe probably one day next week!
5. It boggles my mind why we don't eat down by the pool more often. We packed up our pulled pork and sweet potato fries the other night, had a lovely poolside dinner and then went night swimming. I am having difficulty sitting on the floor and eating dinner at my coffee table anyway, so it was especially nice to sit in a chair. (Yes, I have a dining room table...but right now it is home to "Operation Thank You Cards").
Linking up...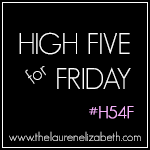 Make it the best Friday!!! XO
*Don't forget to ask your guy these 5 questions, and link-up with us for "The Boys Behind The Blog" on Thursday, 7/18!!!