When I started creating this recipe, I originally set out to make white bean chicken chili. As you can see, I somehow strayed away from the original plan! It started when I realized I couldn't add tomatoes because then it obviously wouldn't be white. You know I don't enjoy having limitations, so I just decided to go with it (and then got carried away). The result was this delicious chili dish that both Stephen and I LOVED! The plan is to make this again sometime in the next few weeks so I can stockpile a bunch in the freezer for when Baby Girl gets here...thinking ahead!
Ingredients:
2
Shredded Chicken Breasts
(follow link for easy instructions on how to shred chicken)
2 tbsp. of extra virgin olive oil
1 large onion - chopped
1 red chili pepper - chopped
1 yellow pepper - diced
1/2 yellow zucchini squash - diced
2 stalks of celery - diced
2 cloves of garlic - minced
4 cups of chicken broth
4 cans of beans ( i used cannelini, red kidney, pinto and great northern) - drained and rinsed
1 can of diced tomatoes with green chilis
1 can of chopped green chilis
1 tbsp of cumin
1 tbsp of chili powder
Salt and pepper (to taste)
Fresh cilantro - 2 tbsp chopped
Cooked quinoa or rice (I used quinoa)
Avocado, sour cream, and shredded cheese (I used white cheddar) for topping!
1. Sautee onions, peppers, squash, and celery over medium to medium high heat until it starts to soften (about 5-6 minutes). Add garlic, and cook for another 3-4 minutes (stirring often).
2. Add broth, beans, seasoning (cumin, chili powder, salt, and pepper), tomatoes, green chilis, cilantro, and shredded chicken. Bring to a boil.
3. Lower the heat to a simmer, cook with lid on for 1-2 hours - stirring every 15 minutes.
4. Serve over quinoa, top with sour cream, sliced avocado, and cheese.

I hope you all enjoy this as much as we did!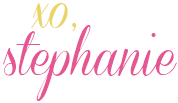 Check out my lovely 'Savory' Sponsor: