Good Morning Friends!!!
It's been taking me all morning to get this post together in between feedings. This past week there have been a load of hi-five-worthy moments...I couldn't pass up an opportunity to recap a few of my faves! The hard part was narrowing it down to only 5!
1. I'm amazed by how much this sweet little face changes from day to day! Some days Ella looks like my husband...but lately I've been seeing more of me! She has my lips and nose for sure! I keep telling her either way it is a "win-win"...heehee!

2. I was lucky enough to have family with me during this incredible time. Unfortunately, they had to leave after this past weekend, but I was sure to take hundreds of pictures!

3. Among all the wonderful things I've been feeling these days, showering and washing my hair is right up there!

4. Do you all remember the button project I was working on? Now that her name has been revealed, I could show you all the finished product. Love it!

5. Awwww! Hubs gave me this adorable locket with my Little Ladybug's hospital pics inside. (I'll be sharing them all on here soon!)




Happy Friday!!!




Linking up...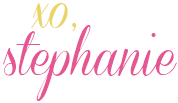 Check out my lovely 'Savory' Sponsor: