Look at me, planning meals for the week! It's nothing fancy by any means. I'm taking the easy route for sure, but I thought I would share anyway!
Monday: Rotisserie Chicken and Sweet Potato Tots
Wednesday: Tortellini Soup
Thursday: Sausage with Kale and Canellini Beans (in freezer)
I'm still in the process of trying to figure out if there is something in my diet that is upsetting Ella's little tummy. This is a factor I had not considered when I was cooking meals and freezing them. Regardless, we need to start clearing out all the frozen meals to make room for a stockpile of breast milk once I start pumping. I really could use a bigger freezer! Anyway, speaking of breast milk...this is one very satisfied customer (indents on her face and all)!
Wish me luck, her newborn photo shoot is later and I'm worried that she will be all worked up and cranky by the time the photographer gets here! It's been a pretty rough weekend with my fussy little monkey! Fingers crossed for a calm afternoon! Right now she is asleep on Stephen's chest...it's the sweetest EVER! I'd snap a pic but my phone is playing lullaby music on Pandora and I'm not messing around with that! LoL!
Happy Sunday!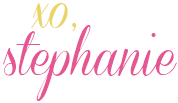 Check out my lovely 'Savory' Sponsor: