Can you even believe that my little honeydew will be arriving sometime this month or very early next? I just realized yesterday was exactly ONE month from my due date! Cray!
I think I've been holding up pretty well with my current wacky work schedule. With school starting back for the kids TODAY (whoa), the hope is that things start to settle down a bit...eventually. I could feel myself getting a little slower, and more uncomfortable as the days pass. Luckily it's not until later on that I feel like absolute garbage (things start to go downhill around 4:00), so I am pretty good for most of the day. Unfortunately for Stephen he gets to see me when I'm at my worst. He is so wonderful though...last night he got home before me and asked if I wanted him to start cooking dinner. How did I get so lucky?!
We worked on more baby preparations this past weekend of course. Stephen set up the pack n' play, the glider, put up an adorable little crystal chandelier, and did some more furniture/box rearranging. I worked on a cute project for Baby Girl's room which I promise to at least give a little sneak peak of soon enough! I also added some more stuff to my hospital bag, and continued stockpiling the freezer with meals for after Baby gets here! I think we are in pretty good shape.
Last Friday we received our maternity pictures. They are just perfect, I can't wait to show you all! My goal is to get those posted soon, and share them at least before (or during) my next bumpdate! Things have just been super chaotic. We used them for our shower Thank You cards which we ordered from
Tiny Prints
! I had some
super sweet options narrowed
down initially (thanks to all of your help), but then it hit me that I could use one or more of the amazing photos from our maternity shoot! DUH! Then I had to make a decision all over again from a whole new batch of cute options! We ordered them towards the end of our NY trip, and they arrived about 2 days after we got home! The quality was great and they were packaged nicely in a cute little box, we were more than pleased. We received a lot of compliments on them after we sent them out. I'll definitely be ordering from
Tiny Prints
in the future. Look how cute!!!
Just one more month...one more bottle of prenatal vitamins...and I get to meet the little princess that has been going wild in my belly for months!! YaY!!!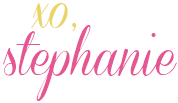 Check out my lovely 'Savory' Sponsor: