Morning! Even though I have been up super early, I'm getting a late start. Today is going to be BUSY, I guess I may be procrastinating just a smidge. Here are the meals I have planned for the week...
Monday: Rotisserie Chicken & Roasted Red Potatoes
Tuesday: Muffuletta Paninis
It's been a great weekend, we went to a local Farmer's Market yesterday morning. As you can see, it helped me gather some inspiration for this week's meals. We also had dinner with friends and went to the movies to see "We're the Millers". Today won't be nearly as relaxing as I would like. I've got a lot of work to do, but the hope is that it prepares me to have a smooth week. If I'm not around as much, you'll know why! Now...let me go start working on crossing things off of this list!
***Also, today is the last day to get 30% off of all ad spots using the code "BACK2SCHOOL"!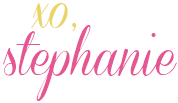 Check out my lovely 'Savory' Sponsor: