Good Morning!
Everyone told me time would be standing still at this point and I have to disagree. I can't believe it's Sunday again already!
Tonight:
Mom's "Bowl Tipping" Chicken Soup
Monday: Perfect Oven Baked Chicken Wings and steamed veggies
Tuesday: Taco Tuesday
Wednesday: Tomato Basil Pasta with Broccoli
Thursday:
Honey Lime Chicken
We have been having a nice relaxing weekend which is exactly what I wanted. Last night we ordered calzones (so worth it) and had a movie marathon. We are also in the nursery moving things around again. One of my favorite memories that I will have of this pregnancy are weekend like this - putting on "The XX" Pandora station, washing and folding Baby Girl's clothes while hubs rearranges the closet for the 20th time!
I'm feeling like an ad sale is in order!!! From now until Baby Girl gets here (whenever that may be), I will be offering 50% off of ALL ad spots using the code "BabySkoWatch"!!!
Don't forget tomorrow is the "Kitchenspiration" link-up!!! You can share anything that has inspired you in the kitchen from the past week, OR post something new! Can't wait!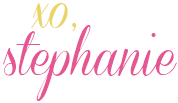 Check out my lovely 'Savory' Sponsor: