How many of these bumpdates do you think I have left?! Kaitlyn from Wifessional's did a post yesterday all about
first time mothers and when they gave birth
...I'm loving her findings! I know Baby Girl will get here when she is ready, but I can't help feeling like I hope that is sooner than later! (***Side note...I write these bumpdates a week after the fact so I am actually almost 38 weeks.)
She is FULL TERM...it can be any day now! It can be any minute actually, OMG. At my Doctor's appointment on Monday he said I'm 1/2 centimeter dilated. I know that I could walk around like that for another 3 (I pray not 4) weeks, so I tried not to get TOO excited about that. I'm feeling A LOT of pressure. She feels super low. I haven't had any strong contractions yet, mostly just some cramping. I was surprised (again) to find out that I haven't gained any weight - I'm still at 30 pounds total. I asked if this is normal and they said "it can be". Not sure what that means but I'm not complaining!
Speaking of complaining...
I'm tired, can't sleep, waking up every hour to pee...the usual. I'm over it. Hubs and I are SO over the moon psyched about meeting this sweet little lady that none of that really matters anyway! We are ready whenever she is!
Last Saturday we went to a "Baby Basics" class at the hospital. It was exactly that...basic....but I'm glad we went. We at least had the opportunity to master the swaddle. Stephen would NOT let me take a picture of him with our creepy fake swaddled baby. He is such a party pooper. You better believe I was not leaving without one at least of myself.
Did you get to read my post from the other day about my
"Social Media Birth Plan"
? Of course I have one...it's a "thing" I swear. At least now it is! Now is the time to make sure you are following me via ALL social media! Baby Skoblicki Watch is ON!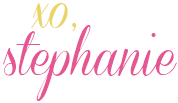 Check out my lovely 'Savory' Sponsor: