Good Morning!
On Friday when I came home from work I thought for sure I would be napping ALL weekend long! That is definitely not the case. Over here at the "Sko" household, we are still knee deep in baby things! Stephen is in "assembly/breaking down boxes mode", and I'm in "craft mode". Yes, my mode sounds way more fun!
Tonight: Chicken Fajitas (*Part of "Operation Cook & Freeze")
Monday: Cream of Zucchini Soup and Steak for Hubs
Tuesday: Whole Wheat Spaghetti Aglio e Olio
Wednesday:
One Dish Chicken and Rice
Thursday:
Pizza Margherita
We woke up nice and early, and went down to the pool JUST in time for me to fit in my morning swim! This is Florida living! Of course the skies are blue again!
I hope you all enjoy the rest of your weekend! Now, back to my weekend project. Hint: It involves LOT'S of buttons and Baby Girl's name! I may show a preview of ONE of the letters later this week!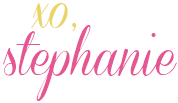 Check out my lovely 'Savory' Sponsor: