So far this weekend is exactly what I had imagined! No work...just relaxation...it's been fabulous!
This is what's on the menu this week:
Tonight: Bolognese Sauce (*Part of Operation Cook & Freeze)
Monday: Double Batch of Crock-Pot Turkey Chili (*Part of Operation Cook & Freeze)
Tuesday: Pizza Margherita (wheat crust)
Wednesday: Creamy Artichoke Soup and Steak for Hubs
Thursday: Burritos with leftover chili from Monday
I'm REALLY running low on space in the freezer! I think after this week I'll have to tone it down a notch as far as "Operation Cook & Freeze" goes. I've stockpiled quite a few meals, I think we are all set! We have baked ziti, turkey lasagna, a sausage kale bean thing (lol), chicken fajitas, lots of sauce, and as long as I don't go into labor before tomorrow... we will have chili! Mission accomplished! It feels good!
Speaking of going into labor, did you get a chance to read about my social media birth plan? Yes, it's a real thing! Baby Skoblicki Watch is ON!
I keep reminding myself to live in the moment. As you can imagine, this is becoming increasingly difficult. The days pass by and I anticipate seeing that little face more and MORE! At least for today I am going to try and slow down, and appreciate the joy and excitement of the unknown. I said I would TRY!
I hope you are all enjoying today!!!
Come back tomorrow and link-up with Chelsea and I for Kitchenspiration!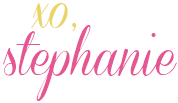 Check out my lovely 'Savory' Sponsor: