Technically I won't be in NY until later this afternoon, but high five anyway for almost reaching our destination. Thanks to the beauty of scheduling posts (also "high five worthy"), I'm probably snoozing at
Mallory's
house right now after a fun night full of yummy food...and lots of laughs I'm sure!
Let's take a look at my eventful week leading up to this beautiful Friday...
1. For Father's Day, I picked up these adorably onesies for the hubs (well for the baby...you get it). It isn't easy to hold back, I basically wanted to buy one of everything that said "Daddy" on it!
2. My Conscious Box arrived, FULL of tons of goodies...I may do a review at some point.
3. I know I posted this in my
bumpdate
, but I literally CAN NOT get enough of Baby Girl's adorable profile!
4. Since we were going away, I had to do something with all of our basil...I spent Wednesday morning making a bunch of pesto, and even some garlic and basil infused olive oil. Yum!
5. My days of painting my own toes have come to an end....it is pedicures from this point on. I was proud that I got one last self pedi in before our trip!
Linking up...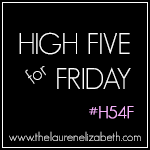 That's it for me...I have a bunch of guest posts planned for the upcoming week. If you follow me on
Instagram
, expect a TON of updates from NY! I hope you all have a wonderful weekend!
XO
***Don't forget to enter this Smashing Giveaway...you could win 2 months of free Spicy Ad Space, and MORE!